Drive-Through Graduation Photo Opportunity
Wednesday June 3rd
4:00 – 8:00 pm
Students with Mr. Avina Counselor (4:00 – 5:00 pm)
Students with Mrs. Corona Counselor (5:00 – 6:00 pm)
Students with Mrs. Jara Counselor (6:00 – 7:00 pm)
Students with Ms. Polite Counselor (7:00 pm - 8:00 pm)
Only 1 family per vehicle, and only one student can exit the vehicle to walk across the stage. All family members must remain in their vehicles for the duration of the event!
Vehicles will enter the school at the traffic light off Baristo and proceed down Big Red Way (follow the security officers and cones).
Photo Opportunity – Turn out of the parking lot and enter the next parking lot near the Performing Arts Building and Desert Learning Academy. This is where the student will be allowed to exit the vehicle and walk across the stage. All other family members must remain in the vehicle at all times. We will provide each family with a picture they can access online.
*All seniors must bring the diploma cover that was provided during the cap and gown pickup if you would like it for your picture.

**All seniors must be dressed in a cap and gown to participate in the drive-through graduation.
---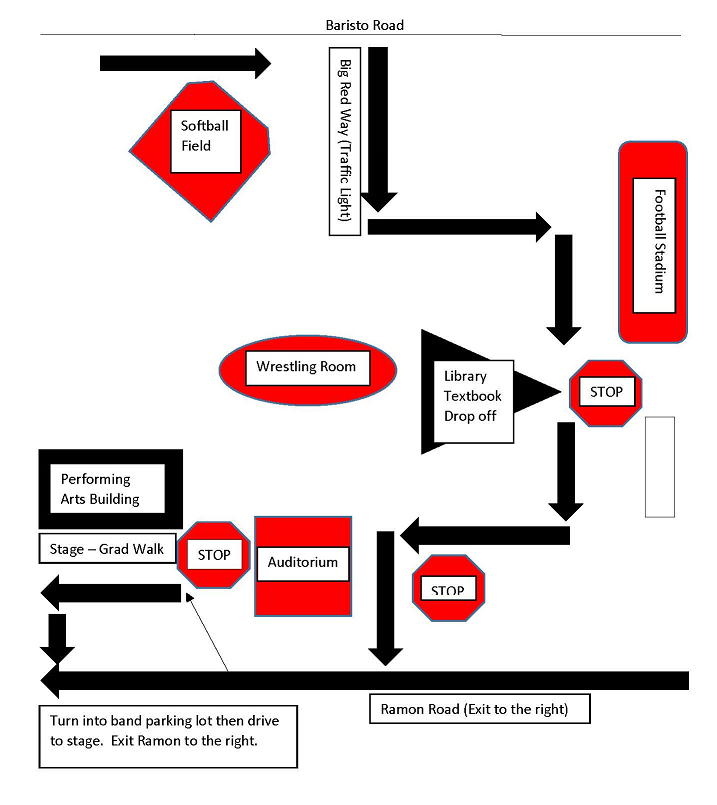 - Class of 2020 Slideshow -
1 hour and 20 min long
I took every photo that was uploaded and created a slideshow from them.  Normally we would just use enough to make a small 15-20 minute show, but I wanted to include everything that was sent.  I did have to remove some duplicates and may have missed some, but 90% of them are in here.  It is being hosted on Vimeo so it should be fine, but let me know if there are any problems.
Mr. Haga
Slideshow Song List
Where I Belong - Simple Plan & State Champs ft. We The Kings
Good Times - Owl City & Carly Rae Jepsen
Best Day of My Life - American Authors
Don't Forget Me (When I'm Gone) - Glass Tiger
Brighter - Against The Current
Million Dreams - The Greatest Showman Cast
It's Time - Imagine Dragons
Good Life - One Republic
Time After Time - INOJ
How Far I'll Go - Auli'i Cravalho
I Hope You Dance - Lee Ann Womack
It's So Hard to Say Goodbye to Yesterday - Boyz II Men
The Climb - Miley Cyrus
For Good - Wicked (2003 Original Broadway Cast)
High Hopes - Panic! At the Disco
Who Says - Selena Gomez
Miles Apart - Yellowcard
When Can I See You Again - Owl City (Wreck It Ralph Soundtrack)
Graduation Song - Vitamin C
See You Again - Wiz Khalifa ft. Charlie Puth
Good Riddance (Time of Your Life) - Green Day
What a Wonderful World - Louis Armstrong
- Administration Office -
Hours
Monday: 8:00am - 3:00pm
Tuesday: 8:00am - 3:00pm
Wednesday: 8:00am - 3:00pm
Thursday: 8:00am - 3:00pm
Friday: 8:00am - 3:00pm